'Westworld' star Rodrigo Santoro plays the title character in a story involving Cuba's medical treatment of patients from the Chernobyl disaster.
The focus of Un Traductor is a little-known chapter in the history of Cuba, certainly one that went unmentioned in most obits for Fidel Castro: After the catastrophic accident at the Soviet Union's Chernobyl nuclear plant, the Caribbean nation opened its highly regarded medical facilities to many of the Russian patients suffering from radiation-related diseases.
The first feature by sibling directors Rodrigo and Sebastián Barriuso is a handsomely shot Cuban-Canadian production that explores this life-and-death diplomacy through one man's unlikely — and government-mandated — participation in it. Brazilian star Rodrigo Santoro (Westworld, The 33) plays Malin, a professor of Russian literature who's ordered out of the classroom and into the hospital, to serve as a translator between medical staff and patients.
The drama begins in 1989, three years after the Chernobyl explosion and in the early days of the Cuban program that would treat more than 20,000 patients over a 20-year period.
Even with significant portions of its running time centering on desperately ill children, the film, written by Lindsay Gossling, avoids the maudlin, its restraint mirroring the protagonist's closely guarded emotions. It's in the late going, before a quietly moving denouement, that the story stumbles into the territory of pat sentiment, its expression of admiration for Malin falling just shy of placing him on a pedestal.
It's a lapse that can be explained, if not excused, by the directors' personal connection to the story, revealed in end titles: The movie's main character is based on their father, Manuel Barriuso Andino. Flaws notwithstanding, Un Traductor is a sensitive, eye-opening account that could travel widely.
With agile work by cinematographer Miguel Littin-Menz and editor Michelle Szemberg, the directors segue smoothly from news footage of Mikhail Gorbachev's Cuban visit to scenes that place Malin and his young son, Javi (Jorge Carlos Perez Herrera), among the Havana residents lining the streets for a glimpse of the Soviet leader.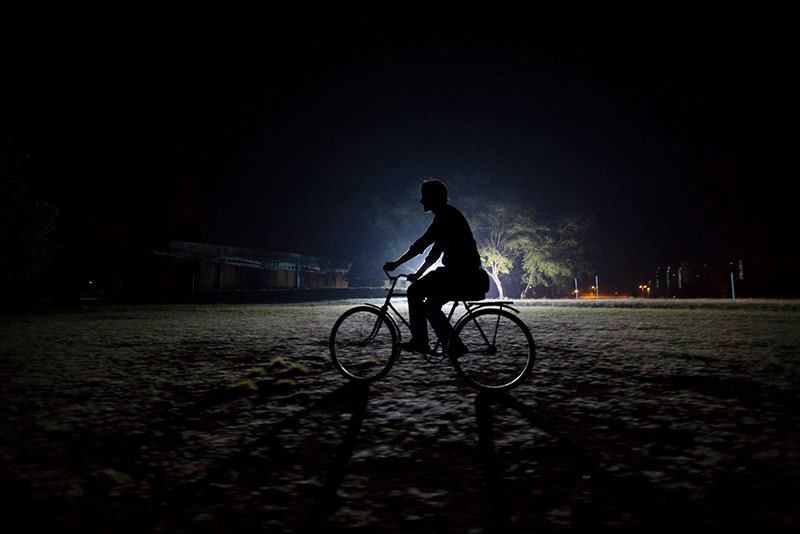 Soon after, Malin's home life with the boy and his artist wife, Isona (Yoandra Suárez), is disrupted by an assignment that arrives without the slightest warning or explanation. With Russian Department classes suspended, Malin and his university colleagues report, as instructed, to a hospital — one that has been turned into a facility dedicated to treating Chernobyl patients, and where the professors' language skills are crucial. After the traumatic initiation of having to tell a young mother that there's no hope for her daughter, Malin tries to get out of his night-shift duties in the children's ward. But before long he awakens to a calling that might even be higher than that of his ivory tower. As he puts aside his thesis and lessons on Gogol to research leukemia, Malin becomes involved with all the kids on the ward, particularly a boy of about 10, Alexi (exceptionally well played by Nikita Semenov), who lies in isolation because of his compromised immune system. Both inside and outside the hospital, mothers don't come off especially well, but Malin is sympathetic to Alexi's watchful father, a high school teacher (a very good Genadijs Dolganovs, who served as a dialect coach on The Shape of Water). In one of the film's most affecting exchanges, the man recalls with bitter sorrow how honored he felt to be transferred to Pripyat, the town where Chernobyl stood, to teach the children of esteemed scientists. But it's Malin's intimate workplace bond with Argentine nurse Gladys that gives the film its heart and soul. Maricel Álvarez, who played the dissolute former wife of Javier Bardem's character in Biutiful, is superb in the part, offering an unforced blend of common sense and passion. Having escaped her native country's dictatorship, Gladys is a proud participant in Cuba's medical system, and a believer in its larger vision; she characterizes Fidel's program for Chernobyl patients as "an act of kindness by a leader with a big heart." Such praise flows organically, unlike the moments in the final scenes when the screenplay requires her, unnecessarily, to sum up Malin's contributions; her gaze says everything that needs saying.
All of this stands in obvious contrast to Malin's healthy, pampered son and the family's relative affluence and comfort. As a man who's taciturn and emotionally opaque — to his wife's growing frustration — Santoro delivers an understated performance that conveys Malin's physical and mental exhaustion along with his deepening engagement in his unasked-for work.
The scenes of Malin's home life can feel stilted, but they serve their narrative purpose, accentuating the tension between individuality, represented by the creative force of Isona, and the collective. And they bring home the day-to-day effects of the breakup of the Soviet Union on Cubans, with economic strains and shortages of goods exacerbating the simmering conflict between Malin and Isona.
That the domestic scenes aren't as gripping as those in the hospital is in some ways the point. Within the horror-tinged green nighttime corridors, Malin is experiencing matters of such urgency that anything else pales in comparison — to the point where he dismisses Isona's work as "just art." Tellingly and movingly, it's only when she sees drawings by the hospitalized children that she understands the depth of her husband's work with them.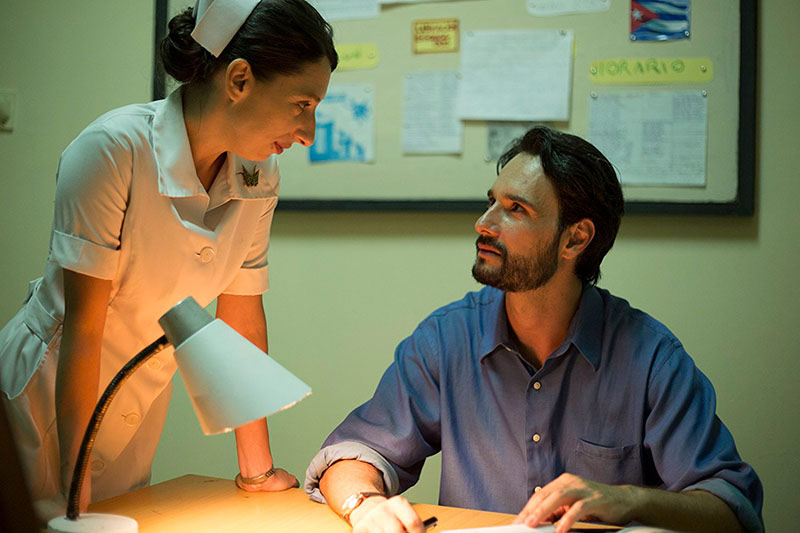 Shot in Havana, with vivid contributions from production designers Zazu Myers and Juan Carlos Sánchez Lezcano, the film captures the distinctive time-capsule quality of an isolated country, where many aspects of the story's 1989–90 setting bear the mark of earlier decades.
The Barriusos' film addresses a specific set of events, but as it unfolds at the intersection of socialist ideals, economic realities and personal ambitions, it's a timeless portrait of what it means to be a cog in the wheel of a single-party regime. Whether Malin's life was enriched or destroyed by his assignment was never part of the greater equation.
Production companies: Creative Artisans Media, Involving Pictures Cast: Rodrigo Santoro, Maricel Álvarez, Yoandra Suárez, Nikita Semenov, Jorge Carlos Perez Herrera, Genadijs Dolganovs, Milda Gecaite, Osvaldo Doimeadiós, Eslinda Núñez Directors: Rodrigo Barriuso, Sebastián Barriuso Screenwriter: Lindsay Gossling Producers: Sebastián Barriuso, Lindsay Gossling Executive producers: Lindsay Gossling, Louis O'Murphy Director of photography: Miguel Littin-Menz Production designers: Zazu Myers, Juan Carlos Sánchez Lezcano Costume designer: Samantha Chijona Editor: Michelle Szemberg Composer: Bill Laurance Casting directors: Libia Bastia, Marsha Chesley, Shakyra Dowling Venue: Sundance Film Festival (World Cinema Dramatic Competition) Sales: ICM Partners
by Sheri Linden - The Hollywood Reporter